- Thank you for viewing our
Xtract™SR Heatsaver
Heatsaver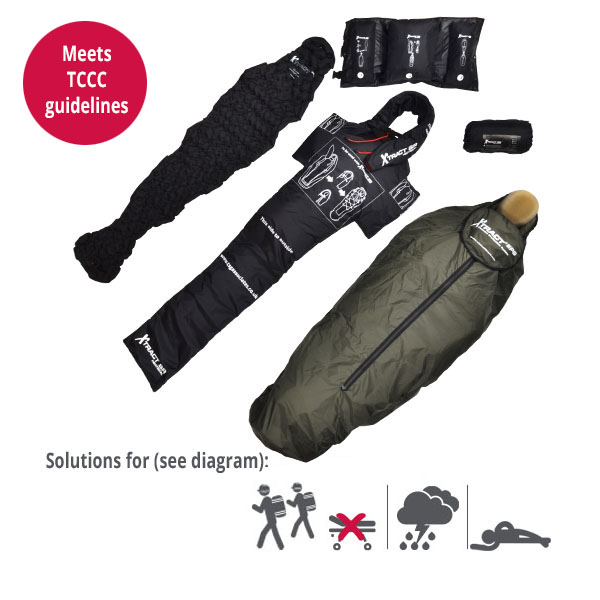 Xtract™SR Heatsaver
Heatsaver
OVERVIEW
"In both military and civilian trauma, it has been reported that 100% mortality occurred when core temperature is less than 32°C".


B.L Bennett, G Giesbrecht K Zafren et alol. Management of Hypothermia in Tactical Combat Casualty Care. Journal of Special Operations Medicine, September 2020, Volume 20, Edition 3. 21- 2.
No casualty should suffer cold and discomfort during an evacuation. We are constantly driven by our passion to improve the care and outcome of injured colleagues to develop outstanding products. We challenged ourselves to produce a pragmatic research-led solution that was small and light-weight. We conducted extensive prototype testing in cold rooms, supervised and directed by medical experts.
We created the Xtract™SR Heatsaver. The Xtract™SR Heatsaver is a major advancement in improving overall patient care in complex environments. This unique product tackles all the causes of heat loss in the seriously injured casualty. The patent-pending design includes sculpted insulation panels that maximise thermal efficiency and minimise size and weight.
SPECIFICATION OVERVIEW:
| | | | |
| --- | --- | --- | --- |
| Product | Dimensions Deployed | Dimensions Packed | Dimensions Inflated |
| Xtract™SR Heatseal | 2150 x 870mm | Packed in Deployer | N/A |
| Xtract™SR Insulate | 2446 x 606mm (not inflated) | 280 x 120 x 8mm | 2170 x 540 x 200mm |
| Xtract™SR EPS | 1760 x 1050mm | 320 x 120mm | N/A |
| Xtract™SR Deployer | 910 x 420mm | 420 x 200 x 200mm | N/A |
Provides solution to:
Adverse weather.
Continued care.
Limited space & weight.
- Other products of interest
Smart Solutions For Life
Our ability to be inventive in designing modular, scalable, life-saving solutions is how we exceed the needs of individuals and organisations who reguarly face challenging situations.